< Go back to Case Reports
December 5, 2013
Case Report: Preparation of a Patient in a Minimally Conscious State for Locomotor Training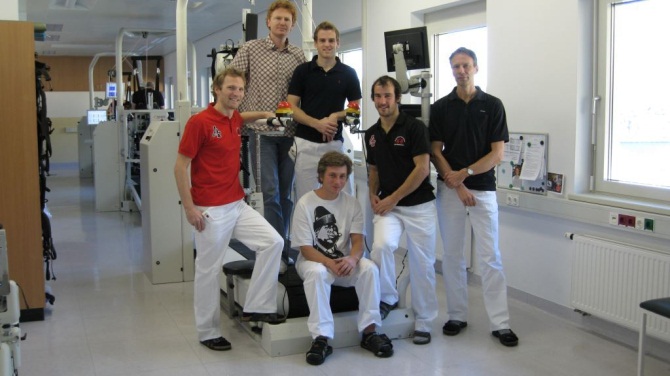 Martin Niedermeier
Department Neurology, Med. Dir: ao. Univ.-Prof. Dr. Leopold Saltuari, Hospital Hochzirl, Austria
We made a clinical experience of therapy including Erigo treatment with a young patient in a minimally conscious state. Initially she could not move any part of the body arbitrarily and was not able to communicate. In response to the therapy program her motoric function and communication skills improved and we would like to provide an overview about the therapy and her progression in this case report.
---
Initial Evaluation
The patient had hypoxic encephalopathy that resulted in minimal responsive state. The event was in the end of June 2013. She was not able to move any part of the body arbitrarily and had multiple myocloni. Gaze attention existed, but she was not able to talk. A yes-or-no-communication system was not present; in fact, it was not possible to communicate with her in any way.
Treatment Goals
In the beginning, general therapy goals were the following:
to improve trunk and head control
to regain motor activity in the extremities
to be able to change body position (lying)
to improve vigilance
prophylaxis of equinus foot and contractures
In the last days, she made sudden improvements, so being able to stand and walk became an additional therapy goal.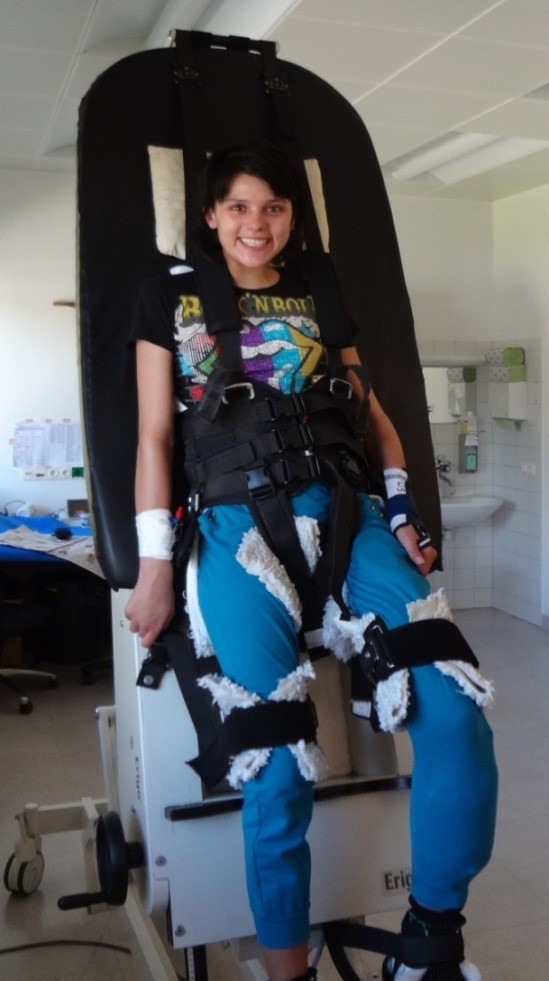 Patient during Erigo treatment at Hospital Hochzirl.
Intervention and Treatment Progression
The patient received the following interventions:
Physical therapy
Occupational therapy
Speech therapy
Erigo therapy
She received Erigo therapy for five weeks with short interruptions because of her status of health (e.g. she had short apnoea and examinations, where therapy was not possible). Erigo treatment was done at least 3 times per week, mostly 5 times. In total, she received 18 times Erigo treatment so far.
Parameters during training with the Erigo were:
Tilt angle increased from 40° till 80° degrees.
Cadence changing with 24 steps/min to 52 steps/min.
Leg loading: 5kg to 35kg.
Pattern of stepping: "Sinus".
Observed Changes
Movement and muscle condition: In the beginning she was unable to move any part of the body arbitrarily, but motor function returned in every body part. Head control is present in every direction; upper extremities and trunk are still a little weak. She is able to stand for one minute with minimal assistance. She can do goal-oriented movements on request. Myocloni have strongly reduced. She did not develop any contractures. In the beginning, she tended towards equinus foot on both sides. This could be prevented.
Communication: In the beginning, her eyes were mainly closed. She began to open her eyes when her parents were talking to her while being upright in the Erigo. In the second week of her stay at the hospital, she developed a yes-or-no-communication system with her eyes. After three weeks of rehabilitation, she was able to talk, despite of short apnoea. At first, responding was not always adequate, but the sentences became meaningful after the third week. Right now, after four weeks of therapy, she is awake and her mind is present.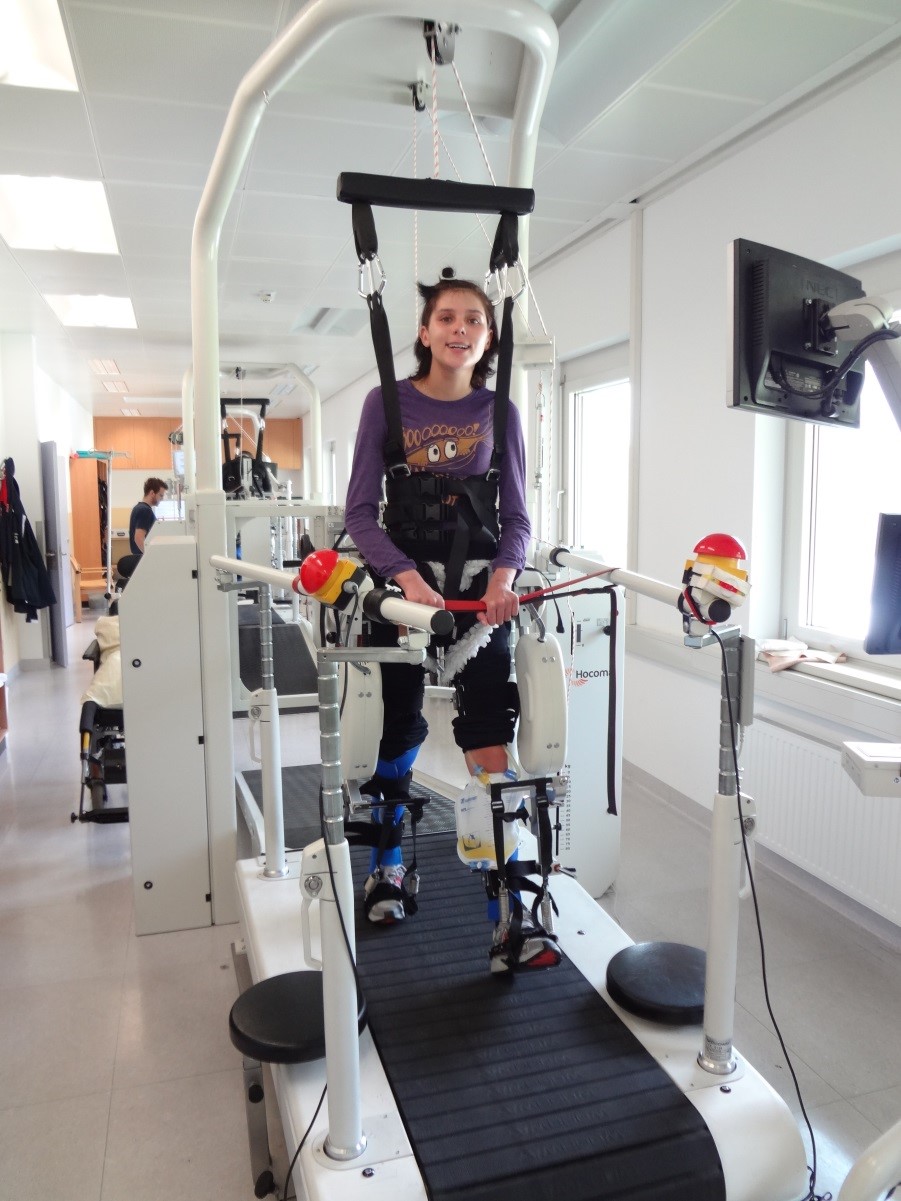 Patient during Lokomat treatment at Hospital Hochzirl.
It is difficult to trace the different improvements to specific types of therapy. But with the help of all therapies combined, the patient is now able to continue with Lokomat treatment. In the beginning of the rehabilitation, there was no thought of setting the goal of walking.
Dynamic verticalisation with the Erigo turned out to support with improving her general condition. Also, the patient gives feedback to be motivated due to the Erigo.
Therefore, we are convinced that the Erigo is useful as a preparation for treatment with the Lokomat.
About us
Hospital Hochzirl, Department of Neurology, Austria is a hospital for post-acute follow-up assistance for neurorehabilitation. Being established 1995, the patients with various neurological injuries/diseases can be attended stationary with 74 beds. Beside conventional physical therapy, occupational therapy, speech therapy, electrical stimulation and water therapy we provide robotic assisted training since 2002. Specifically, Lokomat, Erigo, Armeo, Amadeo and Hirob are used for rehabilitation of the patients. Our robotic team consists of one physical therapist and four sport scientists.