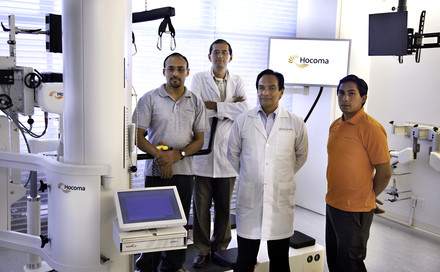 Raul Vivaez, Pavel Loeza, Demetrio Villanueva, Marco Ireta.
Marco Ireta,
Clínica CEREBRO, Distrito Federal, Mexico
We would like to share our clinical experience with an MS patient who was very restricted in her daily life. When entering her rehabilitation program she spent most of the day in bed due to the severity of her illness. The improvement we observed over therapy progression encouraged us to share our experience to support other clinicians working with the same patient group. Please find underneath our case report including a detailed description of evaluation, intervention and therapy progression; also scores  that were applied and videos that were taken.
---
Initial Evaluation
Female patient, 42 years of age diagnosed with multiple sclerosis 14 years ago. The lower-extremity strength (Manual Muscle Testing) before the treatment the global weakness was: left hemibody 3/5, right hemibody 4/5 with generalized pain. Upper – limb dismetria. She required assistance for walking (frame walker), low cadence, during gait the initial contact was plantar and increased the pelvic tilt. Patient received pharmacological treatment, and nutritional cares.
Treatment Intervention: Phase 1
Date
01/08/2011 – 10/10/2011
Goals
Improve physical condition
Sensitivity training
reduce stance width
improve balance and reactions
proprioception training
coordination training and control pain.
Intervention
Therapy 3 times a week. Therapy sessions consist of:
Theratrainer – cycloergometer passive – active movement in upper and lower limbs, patient tolerance for no more than 15 minutes, no resistance and using Borg Scale to prevent excessive fatigue
Balance Trainer – Train Balance, equilibrium, reactions, proprioception patient tolerance using Borg Scale to prevent excessive fatigue
Pro vibe platform – Improve sensitivity and stimulate proprioception 3 minutes on it for one minute rest intensity 20 hz
ArmeoBoom – To improve coordination, proprioception and functionality of upper limbs. 10 sessions 3D activities patient to improve coordination and motor control. Patient tolerance using Borg Scale to prevent excessive fatigue.
Improvements
Increase in strength 4/5 in lower limbs, psoas 3/5, quads 4/5, hamstrings 4/4
Improvement in gait pattern
Strength improvements in upper limb, 4/5, grip 4/3,
FIM from 73% to 92%.
Berg balance scale 31 pts.
Intervention: Phase 2
Date
3/11/2011 – 30/5/2011
In October 2011 she suffers exacerbation with generalized weakness, fatigue and neuropathic pain 4 – 5 (VAS). The treatment prescribed includes physical reconditioning, strengthen and electrotherapy for pain 3 times per week.
Theratrainer – cycloergometer passive – active movement patient tolerance for 20 minutes upper limbs and 20 minutes lower limbs 1 minute active 1 minute passive, no resistance and using Borg Scale to prevent excessive fatigue
Electro stimulation – Kotz current 10 sec contraction, 30 sec rest per 10 repetitions in quadriceps.
Electrotherapy – interferential current 80 – 150 Hz in sacroiliac articulation to control pain
Improvements
Increase in strength 4/5 in lower limbs psoas 4+/5, quads 5/5, hamstrings 4/4, Improvement in gait pattern.
Strength improvements in upper limb 4/5, grip 4/3,
Berg balance scale 49 pts.
Intervention: Phase 3
Date
1/6/2012 – 24/1/2013
Patient presents evolution gaining strength and balance. We continue with physical reconditioning and strengthen.
Lokomat to improve gait 2 times per week for a total of 34 sessions.
Evaluation and Patient Progression
Study and motion analysis was performed during functional tasks following to record the progression during gait rehabilitation in Lokomat.
Run separate shoe on a flat surface at self-selected speed.
To record the kinematics was used opto-electronic system Smart-D (BTS, Italy) 6 camcorders infrared range, with capture rate of 140 frames per second (140 Hz). To start recording the spherical markers were placed in July (15 mm diameter) of reflective material on anatomical landmarks according to protocol Short-Brain. For registration of the reaction forces used force plate model 9286BA (Kistler, USA).  Conventional video was recorded at the coronal (anterior and posterior) and sagittal (right lateral view and left side). The data were processed with the Smart-Analyzer (BTS, Italy).
Improvements
Berg balance 51 pts. FIM 92%
Progression on Lokomat parameters
| | | | | | |
| --- | --- | --- | --- | --- | --- |
| N° Session | Distance | Time | Speed | BWS | Guidance Force |
| 1 | 433 m | 19 min | 1.5 km/h | 100 % | 100 % |
| 20 | 903 m | 37 min | 1.5 km/h | 79 % | 79 % |
| 30 | 654 m | 26 min | 1.7 km/h | 70 % | 70 % |
| Manual Training | 234 m | 11 min | 1.0 km/h | 0 % | 0 % |
Temporal and spatio-temporal parameters
Previous Study

August 21, 2012

Subsequent Study

January 17, 2013

Right

Left

Right

Left

Reference

Stance (%)

86.5

84.6

63.7

61.2

58 – 62

Swing (%)

13.4

15.4

39.3

38.2

38 – 42

Double Support (%)

34.1

36.7

16.4

8.9

10 – 12

Cadence (steps/min)

58.5

78.2

98 – 138

Stride Length (m)

0.51

0.50

1.23

1.26

1.06 – 1.58

Base Support (m)

0.18

0.13

0.07 – 0.09

Velocity (m/s)

0.18

0.72

0.96 – 1.68
Patient before Lokomat therapy.
Patient after Lokomat therapy.
Conclusion
We know that we face a chronic degenerative pathology, and that we are at the expense of exacerbations that alter the treatment plan from one day to the next; therefore, we recommend close communication within the multidisciplinary team working with the patient.
The rehabilitation protocol resulted in an improvement in the functionality, independence and social reintegration of the patient despite being a degenerative pathology, and therefore we believe it is important to share this experience.
Currently the patient continues with maintenance therapy being able to face exacerbations in a better way, since recovery times have decreased after suffering such events.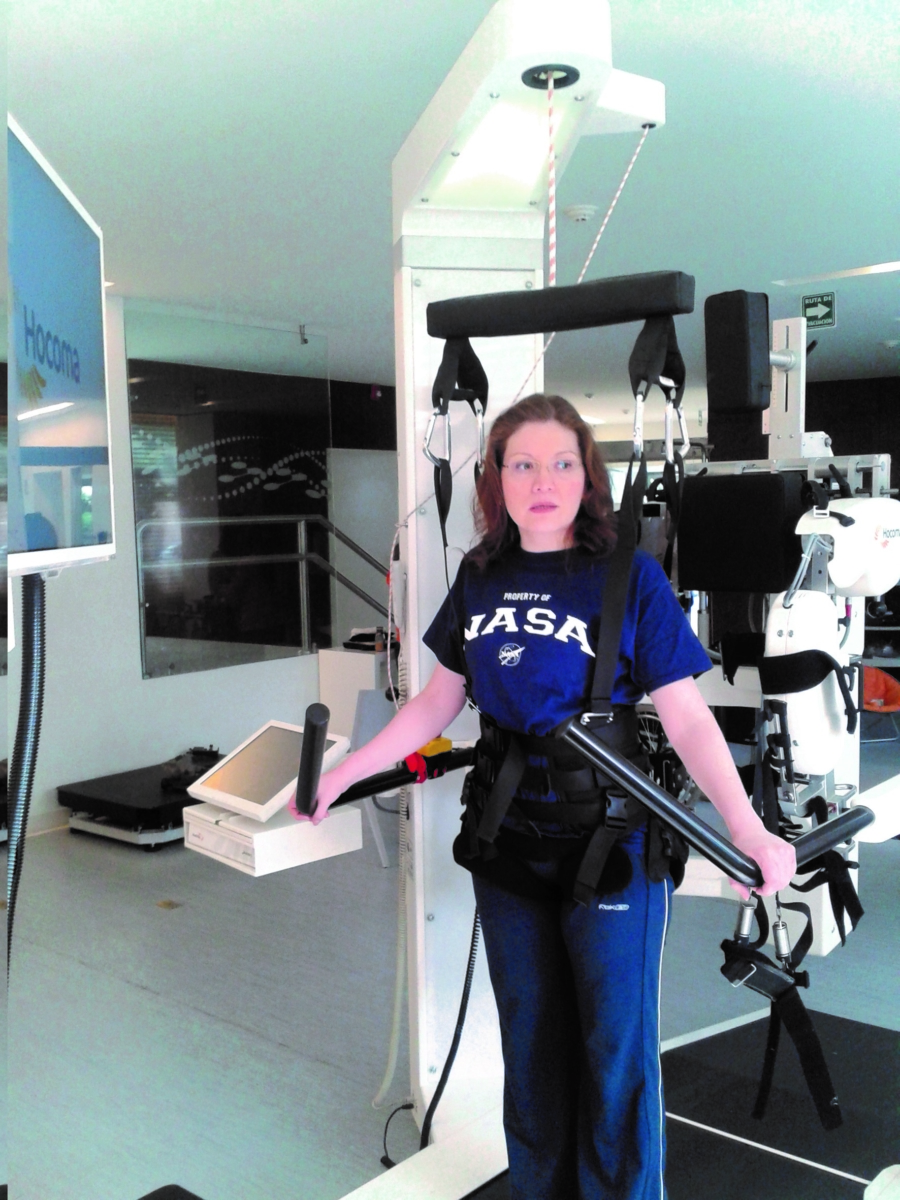 Patient exercising on the Lokomat.
Our Rehabilitation Team

We are a team of specialists that includes disciplines such as neurorehabilitation, sports medicine, physiotherapy, biomechanics and nutrition. The type of patients we serve covers pathologies such as: neurological, orthopedic and sports. In CEREBRO We help our patients achieve their highest possible levels of functional independence and quality of live. Cerebro offers both upper and lower extremity rehabilitation robots for clinical programs in order that the patients improve their motor functions through repetitive, controlled motion. CEREBRO has on site a motion analysis lab to assessment the functional status of the patients and measure the functional outcomes.
---
Patient before Lokomat therapy.
Patient after Lokomat therapy.