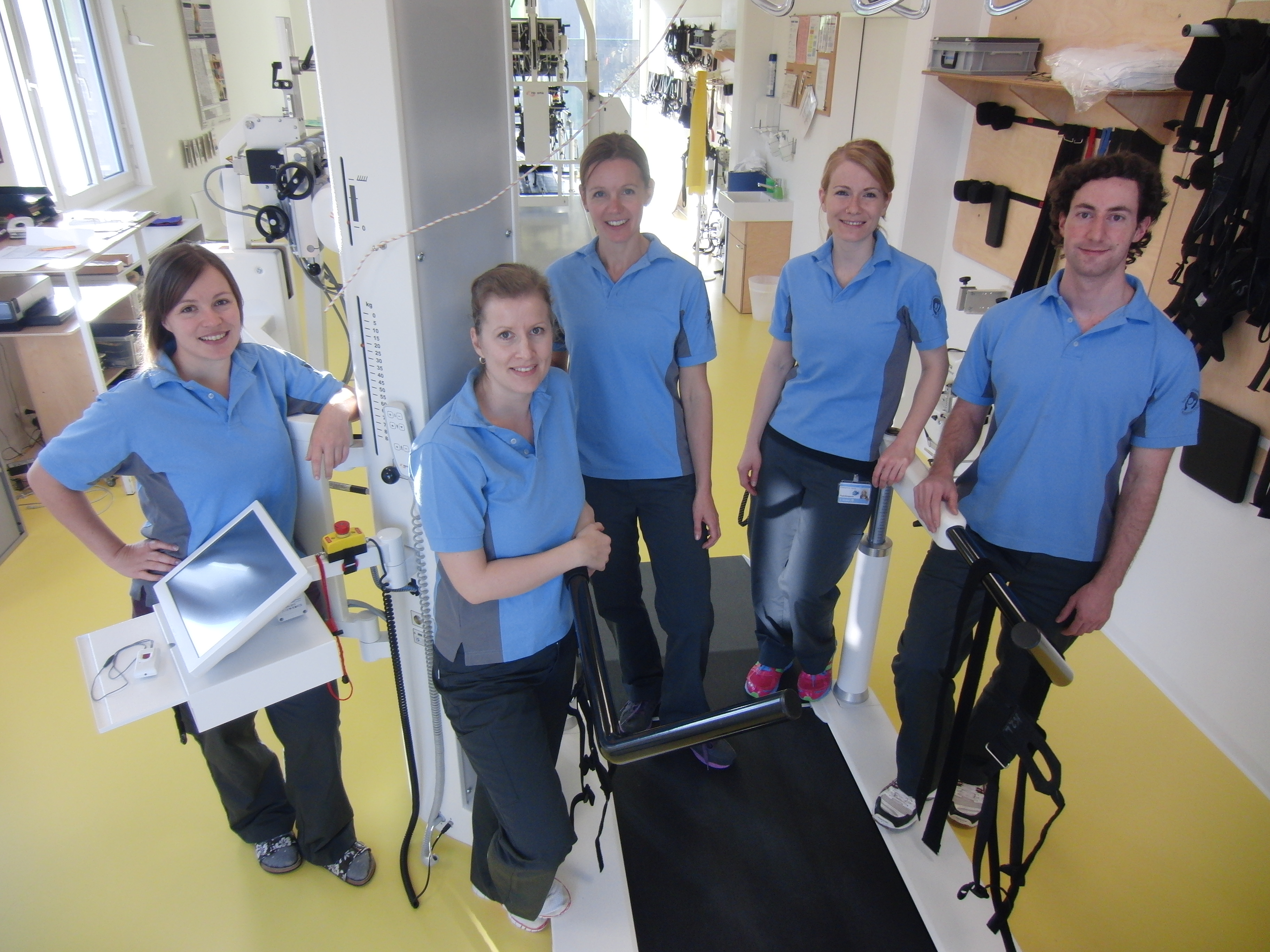 Tabea Aurich-Schuler,Physiotherapist
Rehabilitation Center, University Children's Hospital Zürich, Affoltern am Albis, Switzerland
We have worked with the Lokomat since 2005 with pediatric patients. The Lokomat is integrated as part of our therapy program together with other robotic devices: ArmeoSpring Pediatric, ArmeoSpring, Amadeo, YouGrabber and Erigo. Our patient group are acute and chronic pediatric patients with various neurological disorders.
Here we describe our clinical setting and hope that it serves as an example to support other clinics that also work with the Lokomat.
---
Patient Group
We use the pediatric and adult module of the Lokomat for children with various neurological disorders (mostly CP (more than 60%) with GMFCS levels III-IV, 10% TBI, 10% Stroke), aged from about 5 to 18 years. This includes acquired injuries as well as congenital ones. We treat patients in an acute (first weeks or months after the event) or chronic state (over years).
Prescription: Inclusion Criteria
In our center, inclusion criteria are:
A defined goal setting with the aim of regaining or restoring walking ability or to improve walking ability
Prevention of secondary impairments (with chronic patients)
The absence of definitive and relative contraindications
Therapy with the Lokomat is suggested by the physical therapist, the human movement scientist or the physician/orthopedic specialist. The prescription itself is provided from the physician whereas the number of training units and the intensity is in agreement with the Lokomat specialists and is determined after a trial session.
Duration and Frequency of Lokomat® Sessions
The session is scheduled for 45 minutes, including patient's fixation in the Lokomat. Mean walking time is between 25 and 35 Minutes.
The therapy frequency depends on the patient's rehabilitation program, diagnosis and on the patient's individual goal setting. An intensive locomotion training program includes 20-25 therapy sessions within about five weeks (4-5 Lokomat therapy sessions per week). A less intensive program comprises 2-3 therapy sessions per week.
We enforce that children have at least 2 sessions per week and at least a total of 12 sessions in one block.
A reduction of Lokomat therapy always goes along with intensification in other therapies (e.g. over ground walking, sports therapy, treadmill training).
The duration of the Lokomat therapy depends on the diagnosis and rehabilitation progress of the patient. After acute events (TBI, stroke) and after neuro-orthopedic surgeries, patients often stay for a long period in the rehabilitation center. Then the prescription for Lokomat therapy often changes over time from very intensive and highly prioritized to a more concomitant therapy setting with fewer Lokomat sessions per week.
Towards the end of a long rehabilitation stay and provided the patient is able to walk independently, it is very important to focus on more social and environmental therapies e.g. over ground walking, sports therapy, and/or to concentrate on special instructions and tasks during the Lokomat therapy.
Patient Evaluation
A physician/orthopedic specialist checks the patients for possible contraindications e.g., osteoporosis, special medication, recent surgeries, and pain management. They also have to clarify the patient's general physical condition (e.g. passive range of motion, trunk and head control).
If no contraindications prohibit Lokomat therapy, a trial session will be performed. There, specific goals in the Lokomat and the intensity of treatment can be defined (and will be discussed by the interdisciplinary care and therapist team afterwards). Special sources of influence have to be discussed as well (e.g. motivational problems, cognitive impairments). Sometimes a single trial session is not enough to become clear about all the aspects mentioned above. Then it is necessary to try Lokomat therapy two or three times and decide what the best decision is.
To assess the therapy progress we implemented a test battery which includes:
Functional Ambulation Category (FAC)
Functional Independence Measure for Children (WeeFIM)
6-minute walking test
10-meter walking test (comfortable and fast speed) over the GaitRite walkway system
passive Range of Motion tests
modified Ashworth tests
Manual Muscle tests
GMFM D& E
If we think that it is necessary (or we need it for research projects), we perform additional tests e.g. for balance, trunk control, selective control of lower limbs, goal attainment scaling (GAS) or Vicon 3D gait analysis.
Since the assessment battery is in collaboration with the Pediatric Rehab Research Group, the included tests can change over time or can be replaced with other tests.
Reasons to Include the Lokomat® as Part of the Therapy Program
We do not recommend robotic therapies as a sole therapy. We always implement robotic devices in an individually generated rehabilitation program. We use the Lokomat as a part of this program because it provides the possibility of:
A highly intensive walking therapy (more steps per session; longer training duration; increased walking speed, etc.)
Independence from the therapist's strength and endurance in contrast to manually supported treadmill training
A stabilized position () of the patient and the chance (for the therapist as well as for the patient) to concentrate on walking tasks
A facilitated condition for walking early in the rehabilitation process;
A safe and constantly provided, symmetrical and physiological walking pattern
A dynamic verticalization and a high dose of mobilizing movements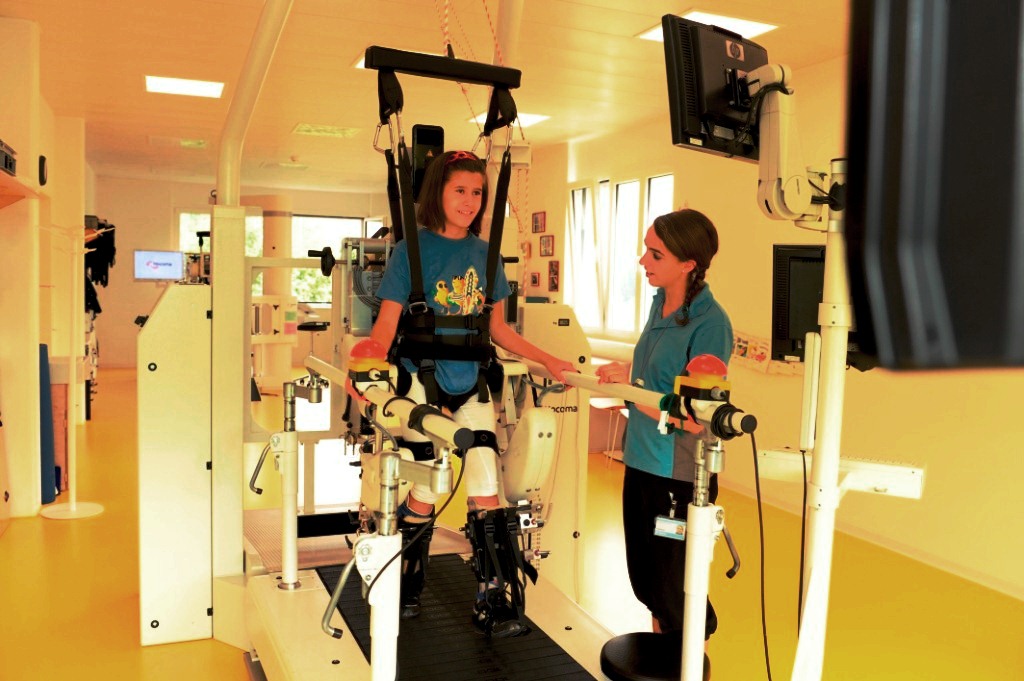 Other Therapies Provided in Addition to Lokomat®
Robotics for upper and lower extremities
Conventional strength, balance and functional mobility training in the physiotherapy (incl. aquatic therapy, hippotherapy, therapeutic climbing, Bobath, Functional Electrical Stimulation (FES))
Medical Training Therapy (MTT)
Sports Therapy (incl. bicycle riding, Nordic walking groups, manual supported treadmill training,…)
Speech therapy
Occupational therapy
Casting- and Taping management
Anti-spastic medical therapy
Organization: Responsible Therapy Team
In our clinic a core team of only well-trained physiotherapists and human movement scientists work with the Lokomat. This has the advantages of long experience with the device and its individual adjustments (a lot of comparison to other patients), as well as quick and routine handling. This is important in pediatric therapy where the therapists also have to focus on engagement of the patient.
As high quality trainings can only be performed by therapists who are experienced in applying the Lokomat, we previously decided that a smaller specific group of technically interested and well-trained therapists would do the trainings. This allows them to perform several trainings per day resulting in experienced therapists. But as we are a small clinic and we put great emphasis on interdisciplinarity, all Lokomat therapists are in close contact with the care-providing physical therapist. Additionally, an electronic internal clinical medical record platform allows different therapists to exchange patient's goals.
We completely reject doing anything in parallel with the Lokomat therapy session (exception: e.g. writing the training protocol). As the Lokomat itself is not a therapist, it is of great importance that the therapist is actively engaged in the therapy for safety reasons as well as to individually adjust the guidance and software parameters from time to time, to give the patient specific instructions about the movement pattern, to motivate or support the patient mentally or to add tasks which include special exercises that target body awareness or dual task training. Additionally, we work with children and their one-by-one therapy is of great importance for the patient's therapy compliance.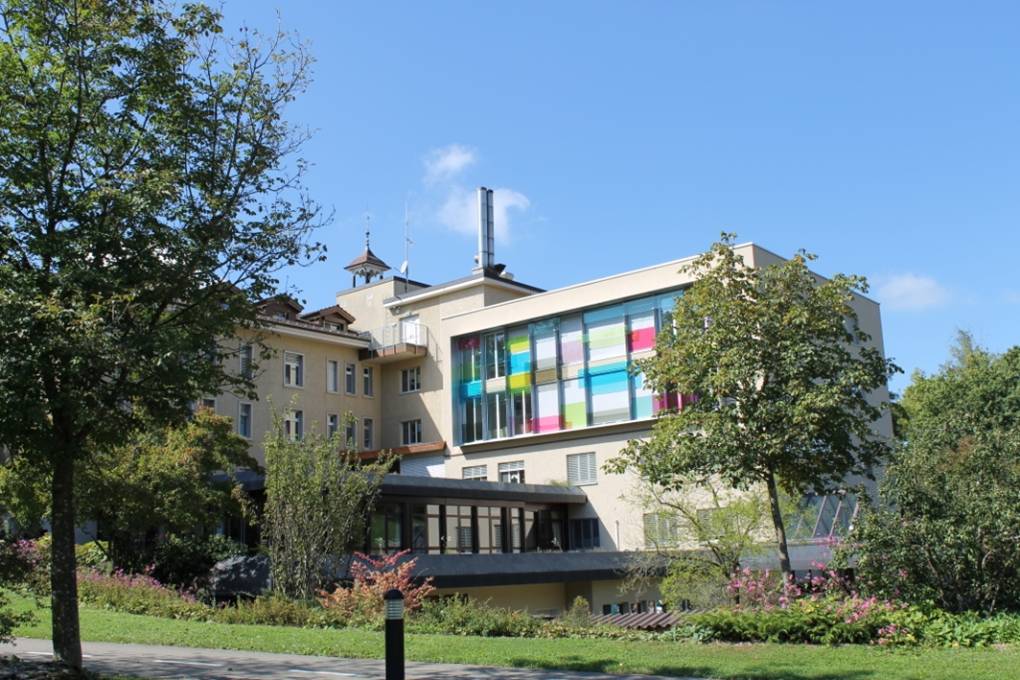 Billing and Financial Compensation of Lokomat® Therapy
As Lokomat therapy in our clinic is not a separate intervention (it is integrated in the physiotherapy), the costs are covered by the health insurance. Besides that, we also have patients from foreign countries who are often self-payers.
For inpatients, the whole stay is covered by the health insurance independently what therapies they need. The Lokomat therapy for self-payers has a different estimation of costs. With the reason that self-payers have to pay an additional flat-rate for the infrastructure costs.
About us
The Rehabilitation Center for Children and Adolescents from the University Children's Hospital Zurich is located in a beautiful landscape in Affoltern am Albis, Switzerland. It is the only pediatric rehabilitation center in Switzerland and provides amongst others 47 beds for inpatients, an integrated outpatient therapy setting, a school, nursery management, occupational therapy, speech therapy, physiotherapy, sports therapy, hippotherapy, etc. Since October 2011 a new annex building could locate the department for highly-specialized medicine (all the robotics) and the Pediatric Rehab Research Group on one floor. Now, people from different disciplines (research nurses, physiotherapists, human movement scientists, occupational therapists, neuropsychologists and researches) work close together.
---
Note:
This clinical experience report is meant to serve as an example of how the Lokomat is integrated into the clinical setting in an individual hospital. It is not a standard recommendation from Hocoma.