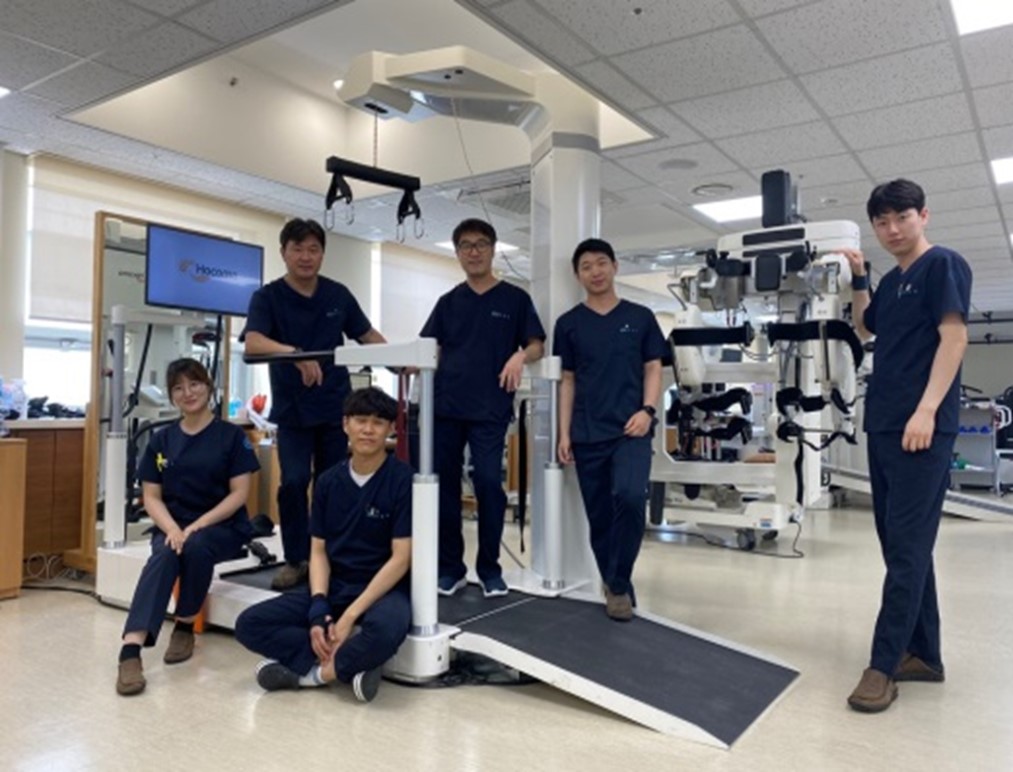 Figure 1 Robotic Rehabilitation Team at Severance Rehabilitation Hospital
Severance Rehabilitation Hospital, Seoul
With a total of 3,400 beds, approximately 4,160,000 outpatients and 1,150,000 inpatients treated annually through the Severance network, it is the largest and leading hospital group in South Korea.  South Korea boasts some of the highest technology adaption in the world and when it comes to healthcare, it is no exception. Our rehabilitation hospital has 170 beds and we offer rehabilitation to patients suffering from stroke, incomplete and complete SCI, TBI, multiple sclerosis, cerebral palsy, cerebellar ataxia and other neurological conditions. Headed by Cheong Jin Woong, our specialized rehab technology team consists of 5 physical therapists and 1 occupational therapist.
---
History of Rehab Technologies at Severance Hospital
In April 2011, we acquired our first advanced rehabilitation device, the Lokomat V5Pro from Hocoma. Our Director Dr. Kim, Deog Young is a strong believer in rehabilitation technology and its benefits for the patients. His vision is that as many patients as possible should be able to have access to robotic therapy. As a result of this vision, the Lokomat was running at full capacity with 40 patients per week for 60 minutes sessions right after its implementation.
First Extension
Our doctors and management decided to enlarge the robotic room and acquire new advanced rehabilitation equipment in October 2018. To serve our patients' rehabilitative needs better, we decided to expand our offers regarding early rehabilitation by  adding the Erigo, and overground walking with the Andago for the later stage of rehabilitation. Additionally, we also started to offer rehabilitation technology-guided therapy for the upper extremity using the ArmeoPower. With the expansion, the team increased to 4.5 full time employees (FTE) treating 260 patients on a weekly basis. To accommodate the devices, our robotic center was almost doubled in size to 96m2.
Workflow and Device Application
In September 2019, our robotic rehabilitation was further expanded and tripled in size to accommodate more patients and to allow for a more efficient workflow. We revamped the layout of the floor to achieve a size of 315m2. Currently, we have 2 Lokomats, introducing the first Lokomat FreeD module to the Korean market, 2 Erigos, 1 Andago, 1 Morning Walk (Korean Endeffector), 1 ExoWalk, 1 Cosmed K5 (energy consumption tester), 1 ArmeoPower and 1 Rapael for hand rehabilitation.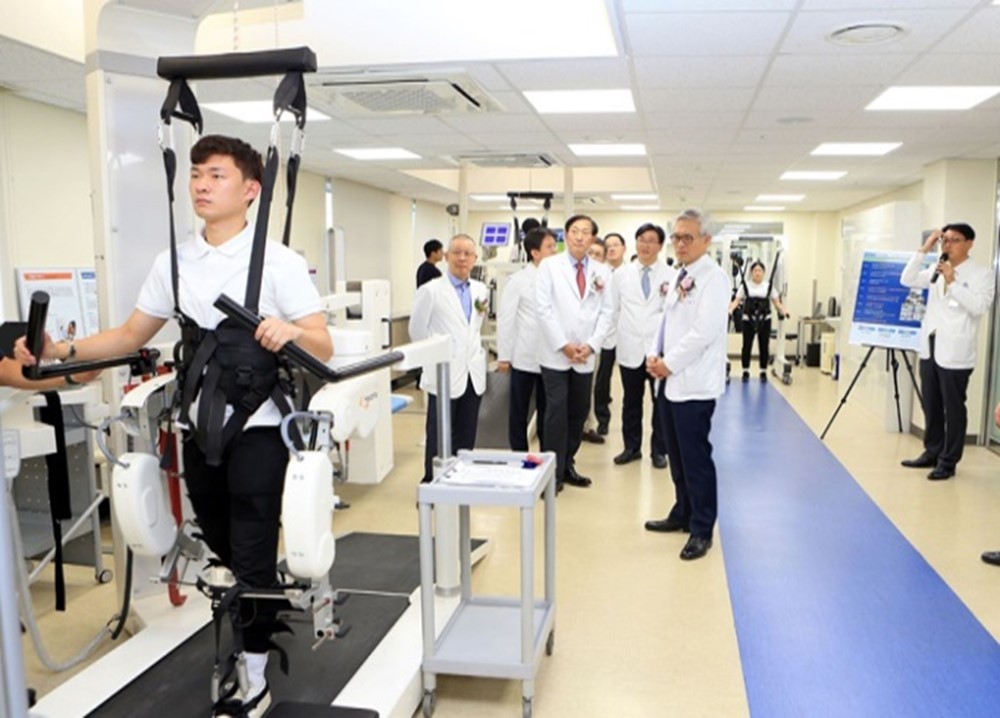 Figure 2 Inauguration after Renovation of Robotic Room
Efficient Settings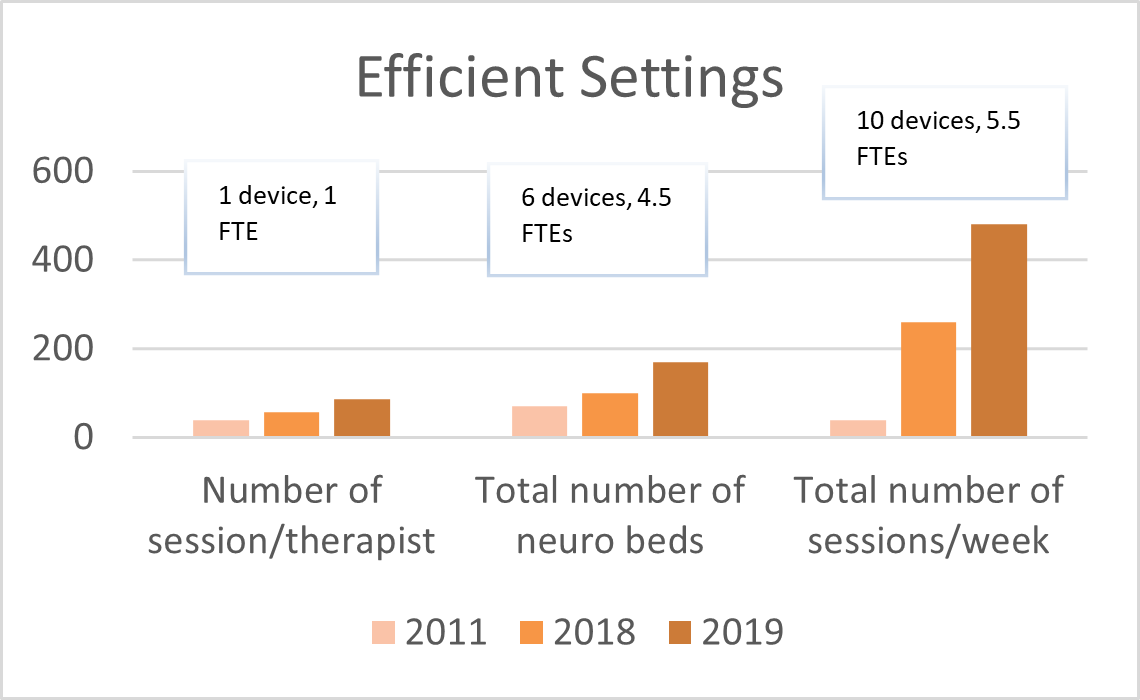 To provide a better workflow, we positioned Erigo and Lokomat next to each other, for one therapist to handle both devices when patients arrive staggered. To smoothen the facility's workflow, we scheduled 40-minute therapy sessions for both. We trained our therapists to perform patient setups efficiently so patients have the maximum time on the device for training. After setup, the therapists have time to present both patients with high intensity challenging exercises. When selecting our patients, we are not only taking into consideration the rehabilitation specialist's assessment but also the feedback from conventional therapy.
We utilize the Erigo for severe patients. In one case, the patient was not able to tolerate the passive mobilization in conventional therapy and grimaced throughout the session. When using the Erigo, the same patient did not express any discomfort during the therapy session, therefore, we preferred the therapy with the Erigo for this specific patient.
When using the Lokomat, we train with the FreeD module. This module of the Lokomat allows us to train weight shifting with our ambulatory patients after stroke. Overall, our patients are highly motivated getting access to the Lokomat and experience specific benefit from the therapy sessions. It also motivates them to work harder during each session and imagining themselves to be fully independent in walking again.
For our ambulatory patients, we use the Andago from Hocoma. Some patients still need a therapist with them to facilitate their gait pattern and therapy session while being physically supported. For these patients, we mainly train gait initiation, balance and weight shifting. We also use the Andago for patients who can walk independently in the Andago with a certain body weight support given and the safety of the harness. These patients can walk under minimal supervision on a predefined blue track imprinted into the floor. Additionally, the Andago can also be combined with either a balance board or a stepper to build up muscle strength and preparing our patients to train climbing stairs with the safety of the Andago. Our patients appreciate the Andago as it supports over ground walking and its versatility allows them to train without restrictions.
For the upper extremity, we use ArmeoPower and Rapael whereby one therapist handles two devices at the same time. On average, patients are being treated for 30 minutes and have a maximum of 20 sessions during their admission. For effective equipment operation, patients arrive staggered with an interval of 15 minutes. To maintain quality and ensure effective equipment operations, we are constantly training our occupational therapist team on the device.
We think that the ArmeoPower is the best equipment for patients. We use it for patients whose upper extremities are moderately to severely impaired and experience difficulties to move their arm. The robot motivates the patients to exercise harder and longer and the motivation is higher than during conventional therapy. We record the training results each time and we use them to alter the treatment goals. In addition, we are checking the motor effects of patients through motion analysis before and after treatment. The results of the analysis showed that many patients improve their arm function. We are maximizing patients' outcomes by robotic therapy combined with conventional occupational therapy.
Due to our high demand and waiting list of patients for robotic therapy, we decided to limit the therapy to a total of 20 sessions per patient within a stay of six weeks for intensive rehabilitation. Usually, every patient receives between 4-6 hours of therapy/day, including 40 minutes of robotic therapy daily from Monday to Friday.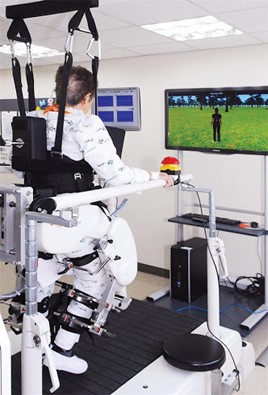 Patient treated on Lokomat V5 at Severance Hospital, Seoul
Conclusion
With a smart placement of devices, we were able to increase our numbers of sessions per week drastically. At the same time, our patients have good recovery outcomes. Having two technology devices in a parallel setting seems to us to be the most efficient workflow with the number of therapists that are assigned to our robotic department. We cannot imagine treating our patients without rehabilitation technology and we see it as the future of rehabilitation.
About us
Therapist Team
Headed by Cheong Jin Woong, we are a young team of 4 physiotherapists and 1 occupational therapist. We provide robotic therapy to patients with various neurological disorders (mainly SCI and Stroke) within the Severance Rehabilitation hospital. In 2020, we also opened our services to pediatrics.
---
Note:
This clinical experience report is meant to serve as an example of how Advanced Rehabilitation Technology is integrated into one particular rehabilitation center. It is not necessarily a standard recommendation from Hocoma.