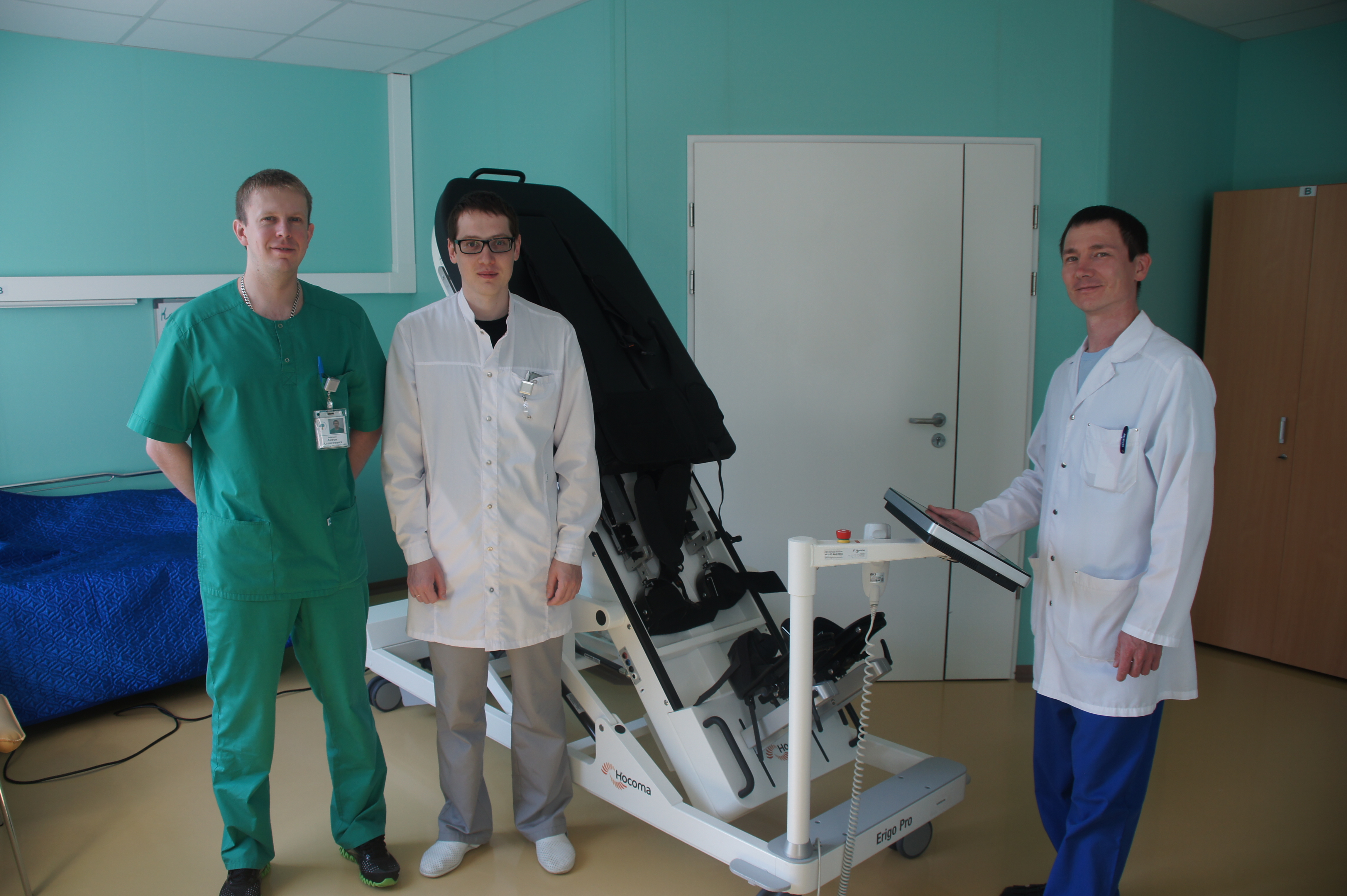 Erigo Therapy Team.
Prof. Andrey Belkin, Director and Chief Neurologist
Clinical Institute of Brain, Ekaterinburg, Russia
We have been using the Erigo since 2014 with all our patients who are in a very acute phase after neurological incidents. Thanks to the unique stimulation and the ability to challenge each patient to his own limit, we observe very good outcomes following only two weeks of Erigo therapy. We follow a very rigorous and challenging approach with the Erigo. In the capable hands of a specialized team, the Erigo is safe and feasible for very early mobilization even with very critical patients.
---
Patient Group
The patients we treat are acute neurocritical care patients coming into our clinic a few days or weeks post incident. This means, we are treating a fragile patient population with about one-third of them being artificially ventilated. Our main goal is to improve cardiovascular stability in order to enable a safe transfer to a chair and to improve consciousness.
Prescription: Inclusion Criteria
We use the Erigo to train all patients who cannot be treated on a conventional tilt table without medication that stabilizes blood pressure (inotropes) due to the disruptions of therapy occurring. The Erigo enables us to train the upright posture most efficiently.
Our clinical team is well trained by neurocritical care experts. We are convinced that the Erigo's benefits outweigh the risks and, therefore, we transfer even very fragile patients to the Erigo. Our state-of-the-art hemodynamic monitoring systems, as well as the availability of physicians, allow a safe patient handling on the Erigo.
Duration and Frequency of Erigo® Sessions

Usually, patients stay in our clinic for two weeks, as this period is covered by their health insurance.
During this time, the patients receive at least 5 Erigo sessions. Our experience shows that in most patients 5 – 7 Erigo sessions are enough in order to reach our goal. If the treatment at our institute is extended, patients can get up to 20 Erigo sessions.
The duration of the first Erigo session including transfers, setup and stepping time, is between 60 and 90 minutes. During this time, we assess the patient's metabolism, respiratory function and electroencephalogram in addition to our standard hemodynamic monitoring. Even during the first session, our goal is to achieve a full 90-degree verticalization. The duration of the following sessions depend on the patient, but it usually is between 30 to 40 minutes.
Our Erigo is used for up to 10 sessions per week. The rest of the time we store it in a separate room.
Patient Evaluation
In order to evaluate the patient's cardiovascular capacity, we assess the duration the patient can step on the Erigo at a tilt angle of 90 degrees without inotropic support (medication) during every Erigo session. We assess orthostatic tolerance through clinical symptoms (dizziness, sweating, etc.), and hemodynamics, such as blood pressure, heart rate, oxygen saturation, and cerebral blood flow velocity via a Transcranial Doppler. Thanks to the meticulous monitoring, our approach allows us to work very close to the patient's performance-limit in every Erigo session and, therefore, to provide an optimal training stimulus. If the patient is able to tolerate a whole therapy session at a tilt angle of 90 degrees, he is normally also stable enough to be transferred to a chair without any orthostatic problems. If this is the case, we end Erigo treatment.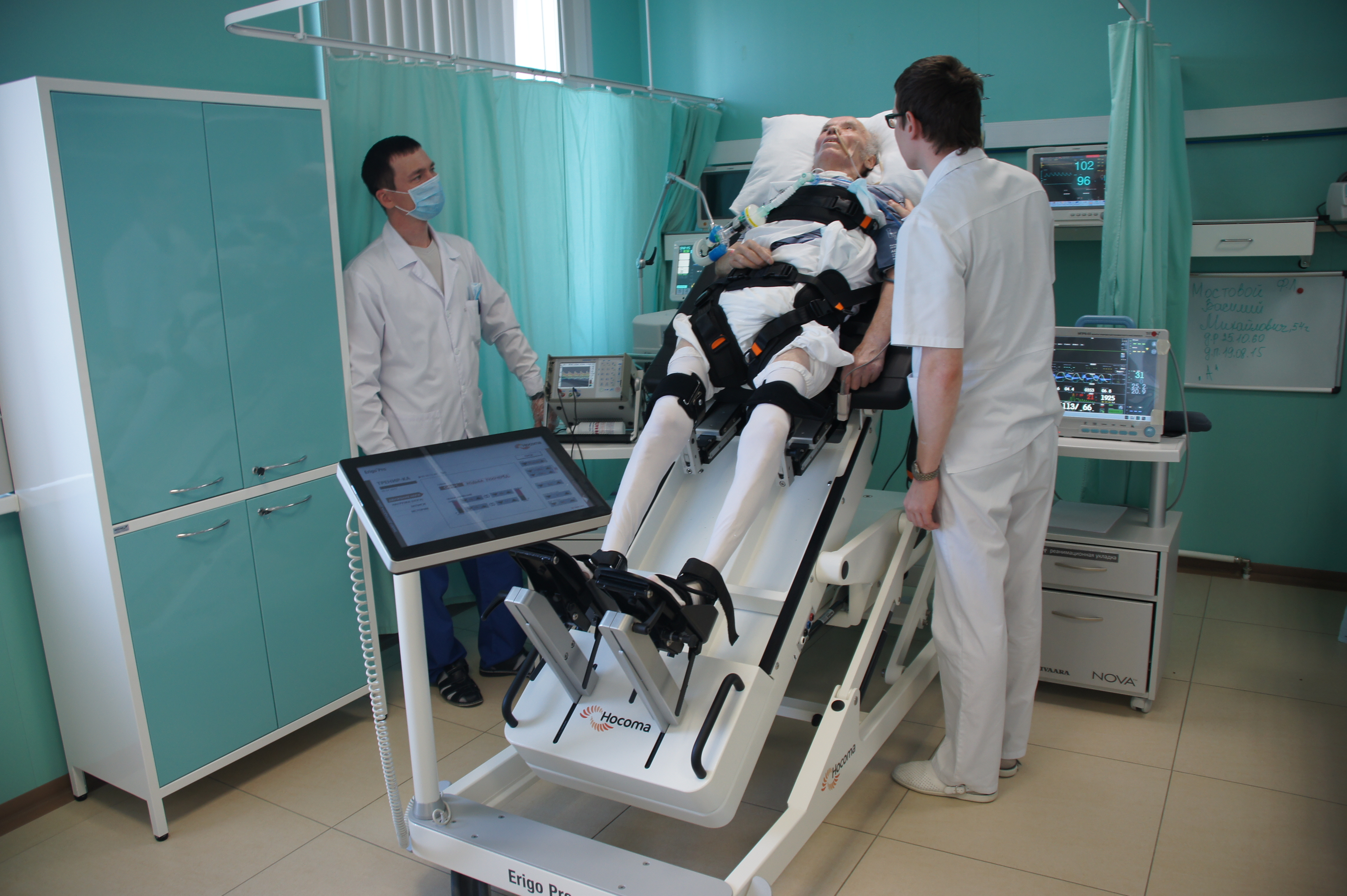 Patient treated with the Erigo at Clincial Institute of Brain.
Organization: Responsible Therapy Team
Our Erigo team consists of three medical experts. The implementation of the Erigo into our daily clinical routine needs a specialized, well-trained team consisting of a physiotherapist, a neurocritical care physician and a neurophysiologist.
The Erigo is only used in our critical care department where we have 6 beds that are always used to capacity.
For the coordination of the Erigo sessions we've introduced a timetable, where the therapists can book hourly time slots for their patients.
The execution of additional therapy (co-therapy) during an Erigo session is very individual and depends on the therapists. Possibilities for co-therapies are mobilization and task specific training of the upper extremities and coordination training. Our therapeutic approach is multi-professional and depends on the International Classification of Functioning, Disability and Health (ICF) goal setting.
Other Therapies Provided in Addition to Erigo®
During the stay in our neurocritical care department the patients who get Erigo therapy also get occupational therapy, conventional physiotherapy (manual mobilization and with bicycles), speech therapy and cognitive training by neuropsychologists. In addition, we have a special multi-sensory room for augmented sensory stimulation (video, smells, tactile stimulation, etc.) in order to increase consciousness of the patients.
Reasons to Include the Erigo as Part of the Therapy Program
• Prevention of arterial blood pressure drop in the upright posture leading to less disruptions of therapy compared to conventional tilt table.
• Erigo improves muscle strength and functional recovery in patients with paresis in lower extremities
In addition to the clinical implementation of the Erigo, our institute is also conducting research with it. We are comparing the effect of Erigo training (including FES) to conventional tilt-table and cycling training on improvement of awareness in patients with disorders of consciousness. Our main outcome measures with regard to awareness are: Coma Recovery Scale-Revised (CRS-R), electroencephalography and cerebral blood flow. Additional outcome measures are: length of stay, complications, duration of ventilation, motor evoked potentials, sensory evoked potentials and hemodynamics.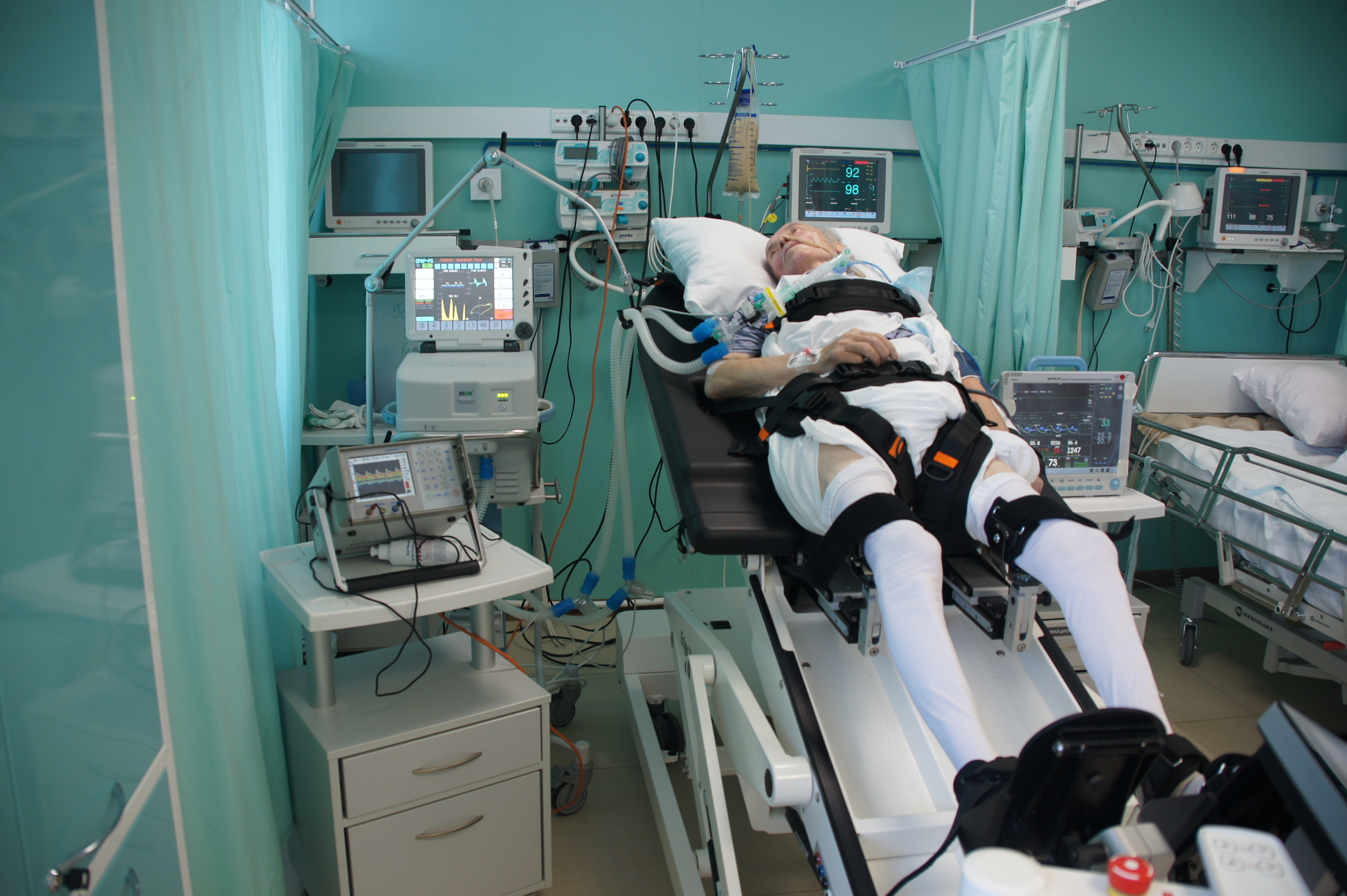 Billing and Financial Compensation of Erigo Therapy
The health insurance covers a two-week stay in our specialized clinic. After that, private, additional insurances, funds or the patients and their relatives themselves have to cover the costs if they stay longer.
About us
The Clinical Institute of Brain was founded in 2004. We have an ambulance for outpatients, a neurology department (40 beds), and a critical care department (6 beds) for inpatients. We specialize in neurocritical rehabilitation and, therefore, we get the most severe and complicated head injury patients from the whole region which comprises more than 5 million inhabitants. We treat more than 1,000 patients in our hospital per year. Besides the Erigo we also use other assistive devices in our neurocritical care department such as an RT600 (FES stepper) and a THERA-trainer (cycling device).
Note:
This clinical experience report is meant to serve as an example of how the Erigo is integrated into the clinical setting in one individual hospital. It is not necessarily a standard recommendation from Hocoma