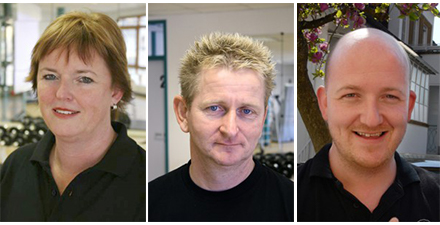 Daniela Dorschner-Geerlofs, Ruud Geerlofs, Marco Dorschner
Zentrum der Rehabilitation R. Geerlofs , Pforzheim, Germany
We believe in motivating our patients to be active. This is the way to success in providing our patients more independence in their lives.
The focus of our therapy is based on the scientifically proven concept of intensive therapy. Intensive therapy allows patients to reach therapy goals quicker and to actively participate in daily life.
---
Patient Group
Our clinic is specialized in the intensive rehabilitation of people with neurological conditions including spinal cord injuries, traumatic brain injuries and stroke. The patients come to our clinic in a sub-acute or chronic phase. The patients range from very severe (including coma patients) to less severe patients.
People with spinal cord injuries usually stay for up to 3 months, people with traumatic brain injury stay between 6-8 weeks and people with stroke between 4-6 weeks. During the rehabilitation, the patients receive from a minimum of 3 hours (for coma patients) up to 8 hours of therapy a day.
After discharge, our patients continue to train at home and often come back for periods of intensive therapy in the clinic.
Prescription: Inclusion Criteria
All of our patients receive gait training from the very beginning of their stay. For Lokomat therapy, the patient needs to be cardiovascularly stable. If this condition is met, we try Lokomat therapy. We do whatever it takes (adaptations, help of more therapists etc.) to get the patients walking in the Lokomat.
Patients who are not cardiovascularly stable receive Erigo therapy with the goal of mobilization and getting them ready for gait therapy. As soon as cardiovascular stability is reached, the patient receives Lokomat therapy.
Duration and Frequency of Lokomat® Sessions
Our clinic provides very high intensity of therapy. Each patient receives 6-8 hours of therapy per day for the whole stay. Lokomat therapy is inserted into this concept and is scheduled 5 times per week. Each Lokomat session is planned for 1 hour and the effective walking time is approximately 45 minutes.
Our 2 Lokomats are placed in 1 room which is connected to the main rehabilitation gym. The devices are operated simultaneously and for about 8 hours every day.
We believe in treating the patients in a big and open space therapy gym. This allows social interaction between the patients and also re-creates a real-life setting with many people, noises, interactions and objects.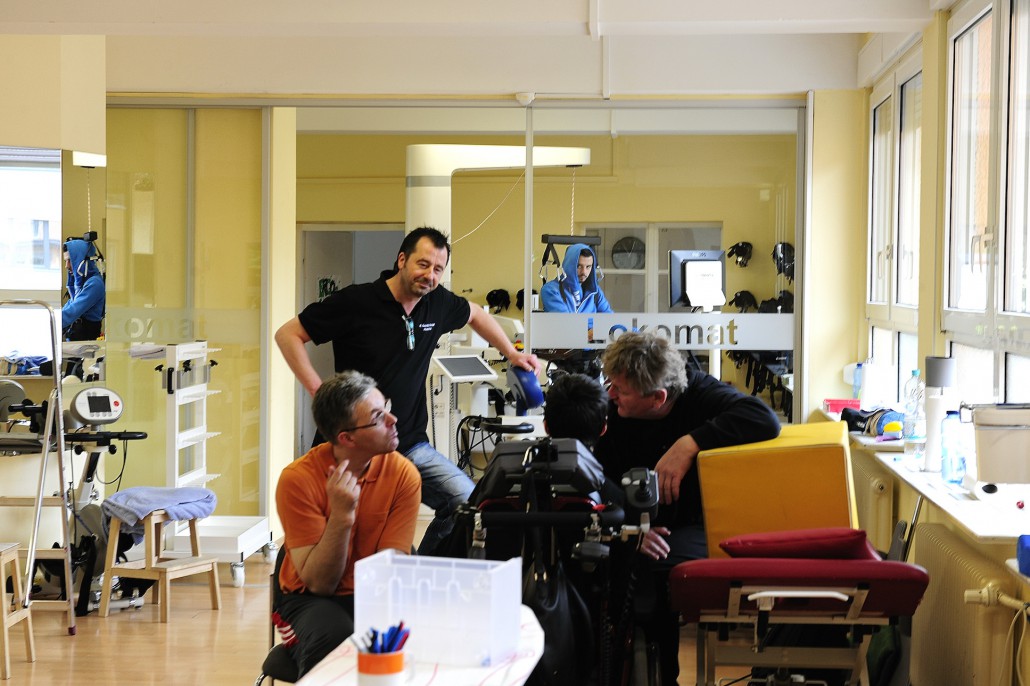 Organization of the Rehabilitation Team
The rehabilitation team consists of approximately 50 therapists. Each patient is assigned to either 1 or 2 therapists according to the severity (less severe patients have 1 therapist, while more severe patients are assigned to 2 therapists). The responsible therapist(s) follow(s) the patients throughout the therapy day and throughout his/her entire stay.
The Lokomats are operated by 3 therapists who are exclusively assigned to robotic gait training. In case of necessity, the conventional therapists can assist and help with the Lokomat session.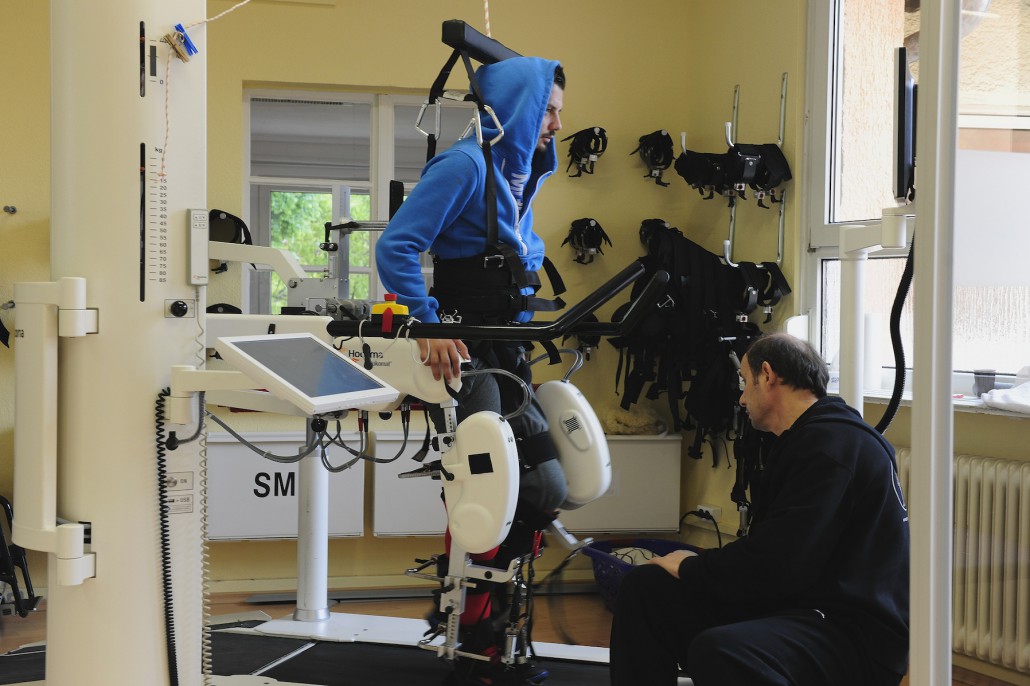 Other Therapies Provided in Addition to Robotic Rehabilitation
The patient is in continuous therapy during the day. In fact, also lunchtime takes place on a rehabilitative aspect. The therapists also use this time to work on ADLs.
Other than physiotherapy and occupational therapy, our clinic offers speech and dysphagia and speech therapy, cognitive therapy and hippotherapy.
Relatives of the patient are welcome to join the therapies.
During their stay, patients can be followed up to 24 hours/day. In fact, the clinic also has 21 apartments where the patients and their families can stay for a small additional cost.  An additional nursing support service is also available.
Billing and Financial Compensation of Lokomat® Therapy
Our patients pay a daily fee for rehabilitation depending on whether they need the support of 1 or 2 therapists. This fee includes 6 hours of therapy, breakfast and lunch (a small fee for the apartment needs to be paid separately). Lokomat therapy is included in this daily fee as follows:
patients assigned to 1 therapist: there is an extra fee for using the Lokomat
Patients assigned to 2 therapists: no extra fee applies for using the Lokomat
Extra fees are also applied for hippotherapy and cognitive training.
In 60-70% of all cases, insurances pay for this rehabilitation program, since many of the patients are victims of traffic accidents.
About us
Our center is a private rehabilitation clinic for neurological patients. We treat between 60-70 patients from the sub-acute to the chronic phase. We believe in supporting and following our patients with a personalized therapy through the entire healing process. Our clinic includes around 20 fully equipped and accessible apartments where the patients can stay with their families or with nursing assistance during their rehabilitation.
This clinical experience report is meant to serve as an example of how the LokomatPro, the LokomatNanos and the Erigo are integrated into a rehabilitation setting of a specific clinic. It is not necessarily a standard recommendation from Hocoma.
X
User Login
If you are a new user, please REGISTER first.