< Go back to Case Reports
June 24, 2019
Case Report: Using the Lokomat® with a Patient with Spastic Quadriplegic Cerebral Palsy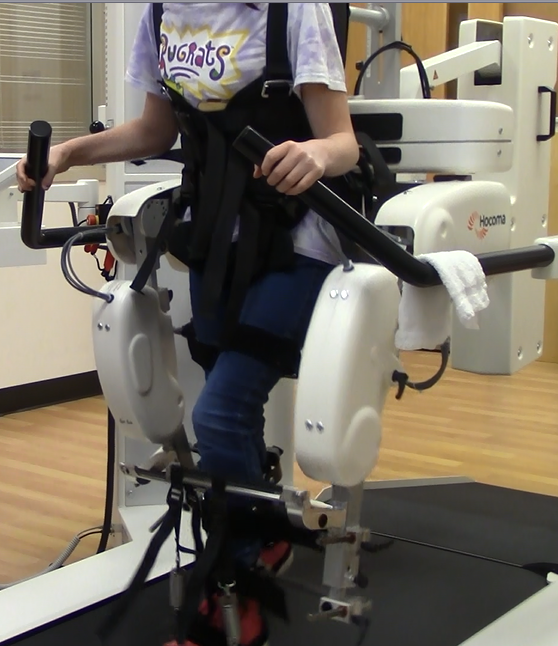 Michael Clay, PT, DPT
Kelly Bonarrigo, PT, DPT
Cincinnati Children's Hospital, Cincinnati, OH
We are excited to share our clinical experience with a child who has spastic quadriplegic cerebral palsy at Cincinnati Children's Hospital. She came to us with patient specific goals related to improved walking speed, endurance, stability, and balance.  We enrolled her in our intensive gait training program where she received individualized treatment utilizing multiple therapeutic modalities. The Lokomat was one of the tools utilized regularly during intervention to address her goals. The patient's experience with the intensive periode of care and improved outcomes motivated us to share how the Lokomat can be incorporated into a program with this population.
---
Pre-Treatment
14 years old patient with spastic quadriplegic cerebral palsy.
The main goals of the therapy were to improve:
walking speed
endurance
stability
balance.
10 meter walk test (pre-treatment)
Trial 1: 15.7 seconds
Trial 2: 13.7 seconds
Avg.: 14.7 seconds
6 minute walk test (pre-treatment)
Distance: 234,21 m/ 768 feet 5 inches
Test adaptations: bilateral orthotics – carbon fiber AFO with DAFO # 4 SMOs and crocodile walker.
Treatment with the Lokomat®
The patient started the treatment end of January 2018 and used the Lokomat until February 2019.
The dosage was 3 times per week physical therapy combining treadmill and over ground training with and without dynamic body weight support:
Robotic assisted gait training with the Lokomat
Overground training with posterior walker
Vector training without posterior walker.

Note: The patient also utilized carbon fiber AFOs with SMOs throughout all treatment.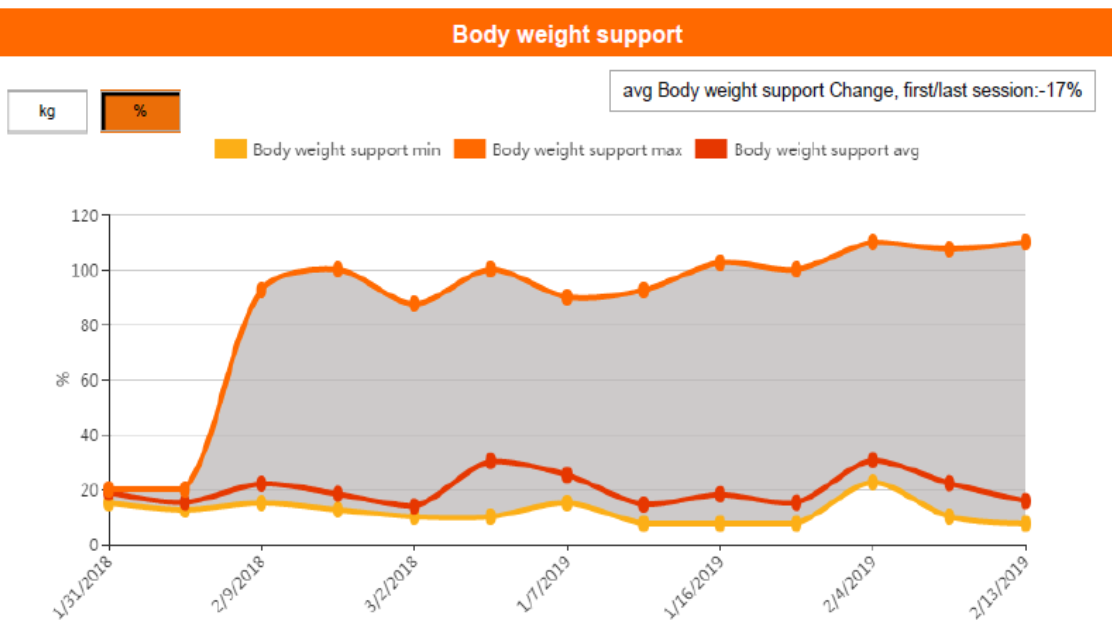 This graph indicates the changes of the body weight support over the course of rehabilitation. Note: average and minimum body weight support are the varaibales of major interest to observe patient progression.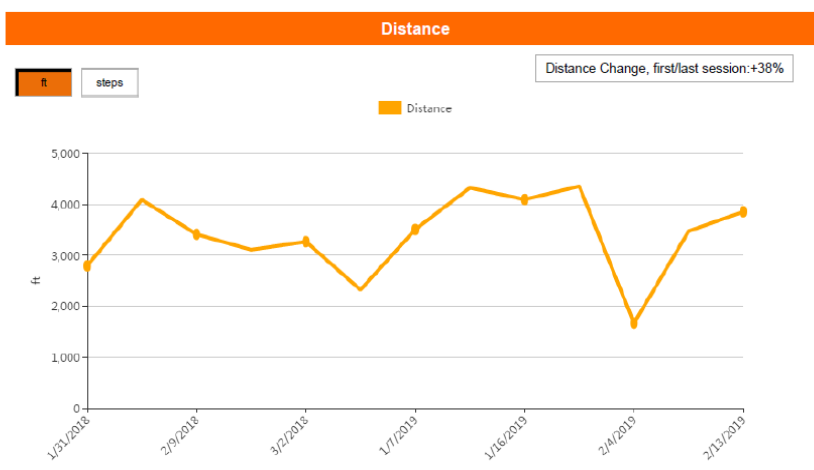 This graph shows a 38%  increase in walking distance over the course of rehabilitation.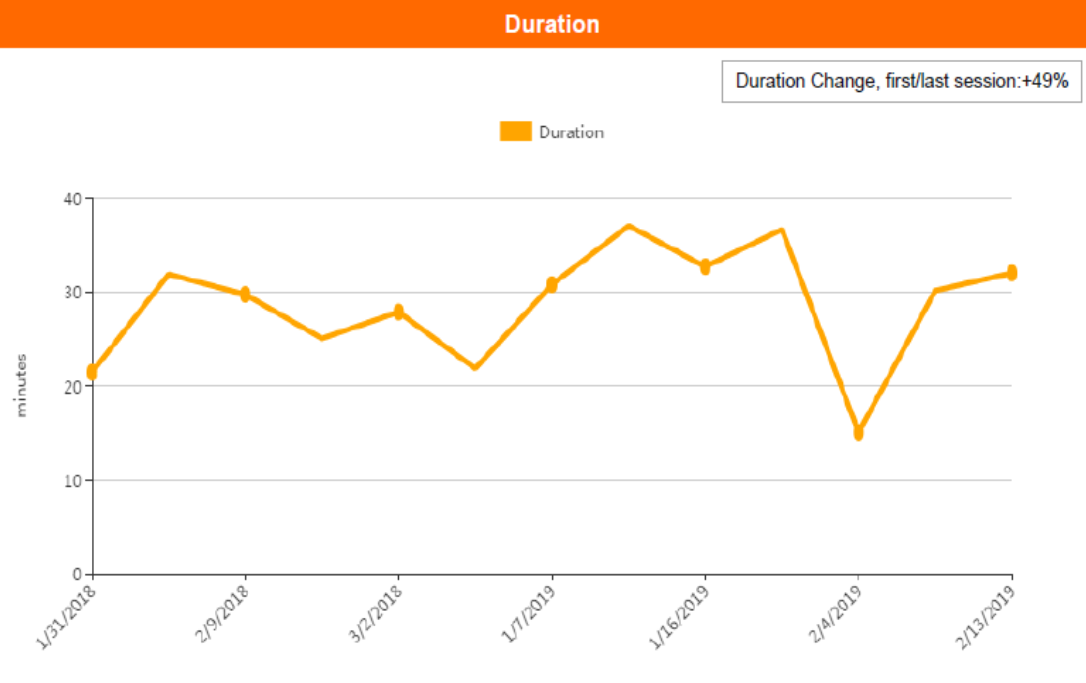 This graph indicates an increasing walking duration over the course of rehabilitation.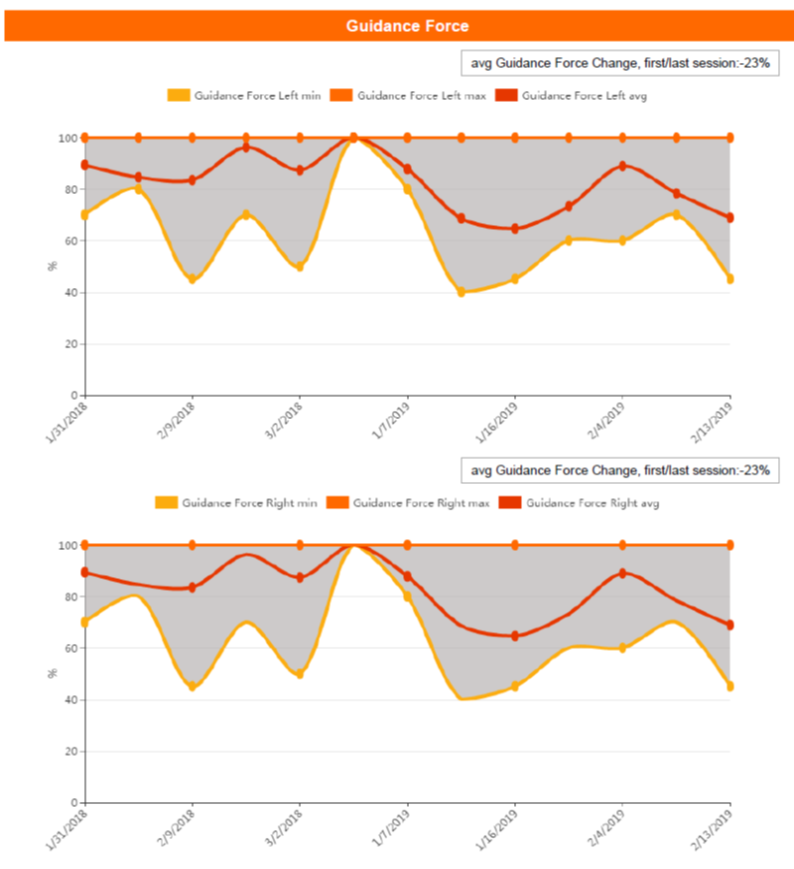 This graph shows the decrease of guidance force in the Lokomat over the course of the patient's rehabilitation.
Post-Treatment

GAITRite
The GAITRite system is a portable gait analysis tool for automated measurement of selected spatial and temporal measures of gait. It is widely reported as a valid and reliable approach to the quantification of ambulation. The GAITRite carpet is approximately 10 meters long. Pressure sensors are embedded in the carpet along a horizontal grid. When a subject walks on the carpet, the sensors register pressure. The data from the sensors is sampled at high frequency. Gait characteristics are processed using GAITRite software.
Note: The patient used a walker, bilateral orthotics and shoes during the GAITRite measures.

Pre- and post-treatment gait parameters.
10 meter walk test (post-treatment)
Trial 1: 12.8 seconds
Trial 2: 9.0 seconds
Avg: 10.9 seconds

Results from the 6 minute and 10 meter walking test before and after the treatment.
Canadian Occupational Performance Measure (COPM)
The COPM is a tool, which was designed to detect changes in the client's self-perception of occupational performance over time. It can be applied to children and adults. The areas assessed include: self-care, work/productivity, and leisure on a 10 point rating scale.

COPM Assessment Sores

Change in Performance Score from last evaluation: 3; change in Satisfaction Score from last evaluation: 3. Note: a change of 2 or more at the time of the re-assessment indicates a significant change.
Goal Attainment Scale (GAS)
GAS is a method of scoring the extent to which patient's individual goals are achieved in the course of intervention. In effect, each patient has their own outcome measure but this is scored in a standardized way as to allow statistical analysis. In GAS, tasks are individually identified to suit the patient, and the levels are individually set around their current and expected levels of performance.
Goals are weighted to take account of the relative importance of the goal to the individual, and/or the anticipated difficulty of achieving it.  Goals are identified, and incorporated into the single GAS score.  The composite GAS (the sum of the attainment levels x the relative weights for each goal) is transformed into a standardized measure or T score with a mean of 50 and standard deviation of 10.

Conclusion
Clinically significant change in GAS and COPM scores.
Walking endurance and speed in the community greatly improved as seen in 6 MWT and 10 meter walk test.
Improvements in temporospatial measures and gait mechanics as seen in GAITRite analysis.
---
Note:
This clinical experience report is meant to serve as an example of how the Lokomat is integrated into the rehabilitation program of a cerebral palsy patient. It is not necessarily a standard recommendation from Hocoma.